We all went into education to help kids — not to drive to Oklahoma City and lobby lawmakers. 
But advocating for our students and our schools has become a necessity after years of budget cuts and flat wages. 
We have to be the voice for kids. 
You represent the kids in your district, and those kids can't lobby for themselves. 
The most effective way to do that is face-to-face, whether that's at the capitol or in your hometown. 
Lucky for us, talking about our work — the job of educating children — is usually easy. What's more important to our communities and our state than educating children? 
Legislators are always hearing from all kinds of constituents and interest groups, so they need to hear from teachers, support staff, and retirees, too.
It's important for legislators to put a face to an issue.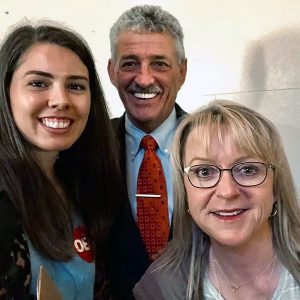 For many of us, the more removed we are from a problem, the easier it can be to dismiss that problem. It's easy to not reply to an email or to not return a phone call. It's much harder to ignore a person standing in front of you.
An important thing to remember: you don't have to be an expert in the intricacies of education policy. 
Legislators know the facts and figures. They know how much we've cut public schools. But what they probably don't know is what that looks like in your classroom or in your school.
Tell the story about what's going on at your school, in your town and in their district. We don't want to say the sky is falling; we want to paint an accurate picture. After funding gains the past two years, legislators might not know the challenges that we still face, whether it's crowded classrooms or outdated textbooks. They may not know many teachers still work a second (or third) job outside of school, and that no pay raises for support staff means living below the poverty line. They may not realize retired teachers are literally deciding whether to buy food or medicine.
This session, be sure to thank lawmakers for what's happened in the past two years, but also explain why we have more work to do. If we don't continue that investment, we will end up right back where we were before the walkout.
When to lobby Oklahoma legislators
When you work in education, your number of personal days is extremely limited, so it's important to make the most of your advocacy day. 
The point in session does not matter. Come when you can, whether it's February or May. 
The day of the week doesn't necessarily matter. 
Lawmakers are in session Mondays through Thursdays, but if you want to get the most out of your day at the Capitol, Tuesdays and Wednesdays are the best.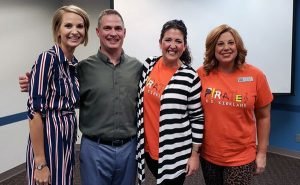 On Mondays, lawmakers don't go into session until 1:30 p.m., so there's a very small window of time to meet them before their workday begins, especially lawmakers who drive in from the far reaches of the state. 
On Thursdays, the legislature usually adjourns early, so lawmakers have the chance to get home that evening and be in their home districts on Fridays. 
Legislators are busy with meetings and the business of the floor, but they will usually do their best to make time for you. Legislative assistants will also help you find a time to meet your senator and representative.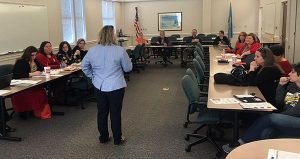 Every day of the session, members of the OEA Legislative and Political Organizing staff brief members at 9 a.m., and then everyone heads over to the Capitol. Breakfast snacks are provided. 
We'll also provide you information about your individual lawmakers, both for where you live and where you work.
For many years, Tuesdays are usually our big advocacy days. We call them Together We're Stronger Tuesdays. At lunchtime, members reconvene to debrief, and lunch is provided.