Inclusiveness is the theme of NEA's RAA virtual calendar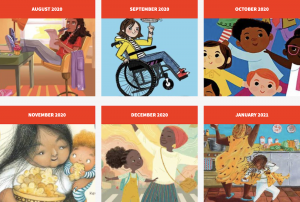 NEA's Read Across America virtual calendar offers lessons on racial inclusiveness and Equity. Listed by month, educators can find recommended books for all ages and teaching resources representing an array of cultures, identities and experiences.
A year-round celebration of Reading!
NEA's Read Across America is an annual reading motivation and awareness program that calls for every child in every community to celebrate reading on March 2, the birthday of beloved children's author Dr. Seuss.
NEA's Read Across America also provides NEA members, parents, caregivers, and children the resources and activities they need to keep reading on the calendar 365 days a year.
In cities and towns across the nation, teachers, teenagers, librarians, politicians, actors, athletes, parents, grandparents, and others develop NEA's Read Across America activities to bring reading excitement to children of all ages. Governors, mayors, and other elected officials recognize the role reading plays in their communities with proclamations and floor statements. Athletes and actors issue reading challenges to young readers. And teachers and principals seem to be more than happy to dye their hair green or be duct-taped to a wall if it boosts their students' reading.
The NEA offers tons of resources to help you design and implement your own Read Across America Event, including Reading Resources for Every Month of the Year through a partnership with Reading is Fundamental. You can also find Read Across America supplies, including the 2019-20 RAA Activity Calendar.
Dr. Seuss is no longer the main sponsor of NEA's Read Across America. RAA is a year-round celebration of reading, including large celebrations on March 2 and during National Reading Month in March.