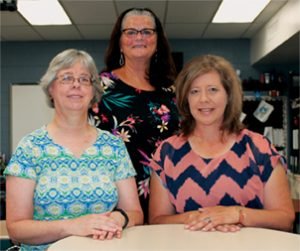 Maternity leave, dental insurance and a $1,220 raise for all teachers were three items in a successful bargaining season for the Vinita Classroom Teachers Association in 2019-20.
In honor of the team's hard work leading up to and the success of negotiations, VCTA has been named winner of the OEA's 2020 Collective Bargaining Award. The VCTA negotiations teams takes a big-picture approach to bargaining, prioritizing language that is beneficial not only for teachers but for the district as whole. They even try to negotiate items that will benefit the support staff, which does not bargain with the district.
Last year, VCTA negotiated that the district pay for the first five days of maternity or adoption leave for any teacher who has been with the district for at least two years. Sick leave may be used after the first five days. District-paid maternity leave is a rare item in local contracts and VCTA believes its language is unique to northeastern Oklahoma.
In addition, VCTA
secured 100% district-paid dental insurance,
added $1,220 to each column of the salary schedule,
added a Step 34 to the salary schedule, and
won a $150 bonus for all district employees
The team also clarified personal business leave language and updated the school employee dress code.
Joy Doggett, VCTA vice president, said the negotiations team works to protect the rights of employees and to ensure that students receive a quality education.
"In an era of teacher shortages and budget cuts, VCTA maintains a strong and open relationship with the district's administration," Doggett said. "As such, VCTA's negotiations team has sought to negotiate items that make Vinita Public Schools an attractive workplace for new employees as well as assist in retaining current employees."
Vinita teachers also are aware of just how effective VCTA is at the bargaining table. Jennifer Zagar, a pre-K teacher in the district, was a POE member but left that organization and joined VCTA/OEA.
"We now have better benefits that we do not have to pay for, we have more time to spend if someone dear to us passes away, we've (received) pay raises and bonuses due to (VCTA) spending time bargaining for all of these things and a whole lot more," Jennifer said.
"If it wouldn't have been for all of the hard work that I have seen our VCTA doing for us, I would never have changed (organizations.)"
Watch OEA's video presentation of the Collective Bargaining Award to the Vinita Classroom Teachers Association.