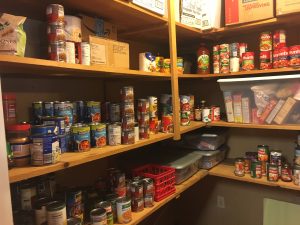 After a series of unfortunate events, including the death of her husband and the loss of her job, a Tulsa teacher found herself in a difficult financial situation. With three college degrees, she obtained an emergency certification and began teaching sixth grade.
But, medical bills, unexpected expenses and a significant drop in income put and her daughter in a crisis. With no food in the house, she turned to her professional association, the Tulsa Classroom Teachers Association.
When teachers are only paid once a month, some of them are bound to run into hard times before the next paycheck arrives. The Tulsa Classroom Teachers Association recognized that need and established Mama J's Pantry, a food pantry for TCTA members and support employees of Tulsa Public Schools.
In recognition of this heart-felt action, TCTA has been named the winner of OEA's 2020 Glenn Snider Human Relations Award. It is one of the association's four Human and Civil Rights Awards. The Glenn Snider award is presented to a school district, individual or organization best exemplifying the practice of effective human relations and concerns for human rights.
The award includes a cash donation of $250, paid for from interest of the Glenn Snider Fund.
"I thank God for TCTA!," the teacher said in her letter of recommendation for this award. "Through their generosity I was fortunate to obtain groceries from their pantry, which sustained my daughter and me through an incredibly rough period. I honestly don't know what I would have done without TCTA."
Mama J's Pantry is named after the TCTA member who developed the idea and put the plan in action – Julie Reagle. The pantry is stocked almost entirely by donations from TCTA members.
"(TCTA is) focused on one thing – supporting teachers, whatever it takes," said State Rep. Melissa Provenzano, a former teacher and administrator with TPS, in her nomination letter. "They have never failed to advocate for the highest quality employee workplace conditions that they can obtain, often doing the legwork themselves to make sure teachers have what they need to do their job successfully."