The Value of OAEA Membership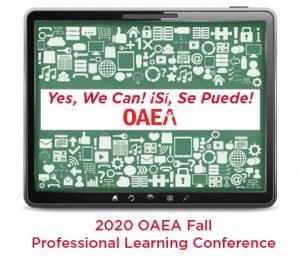 Did you miss out on a professional development session at the 2020 Fall conference? Now you can stream all of the sessions right from this website. Sessions include: 
How to Have Hard Conversations with Students about Race

New Educator Panel: Teaching in a Pandemic

Virtual Interviewing Skills—Top Tips & Techniques

Classroom Management in a 

Virtual Setting
Hispanic Heritage Month
Implicit Bias
Virtual Engagement Strategies that Work
What We May See in Our Students: The Trauma Informed Pandemic Classroo
Legislative Awareness and Action
Oklahoma Certification and Certification Exams Update
Ag in the Classroom
Curriculum Design: Project-Based Learning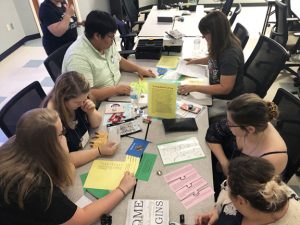 Aspiring educators from around the state serve as elected leaders, representing future teachers on the OEA Board of Directors and on various OEA committees. Meet your 2020-21 officers.
OAEA Chapters Embracing Social Media
Each year, OAEA members participate in Outreach to Teach, a community service project where members give a local school a makeover.
Former Student Member Rebate
New certified OEA members who were student members while in college are eligible for a rebate of both OEA and NEA dues they paid as students. Rebates must be applied for by May 1 of each year and the applications must be sent in during the member's very first year of education employment. Complete the form here.
The Oklahoma Aspiring Educators Association (OAEA), formerly known as  the Student Oklahoma Education Association (SOEA), is a pre-professional organization of undergraduate and graduate students currently preparing for careers in education. As a member of OAEA, students are affiliated with the larger Oklahoma Education Association, an educational professional association representing nearly 35,000 members in the state. OAEA members are also part of the National Education Association – the largest education association in the nation and a major force in shaping the nation's education agenda, with over 3.2 million members representing every state in the nation.
OAEA is one of the largest student organizations in Oklahoma with local student programs at more than 25 university and college campuses. Local chapters provide support with job interviewing skills, resume writing, brain-based learning, classroom management, cooperative learning and other vital educational information and issues. Membership in OAEA also provides networking opportunities with professional educators through the "Hook Up" program, where local OAEA and local K-12 associations work together to host professional development workshops and unite for special projects.
The Oklahoma Aspiring Educators Association is led by an elected executive board of student members who provide services, and representation within the OEA. Along with the State Student Organizer, who is a staff member of the OEA, the executive board hosts a fall conference and spring convention that focus on developing members' communication and leadership skills, providing professional development opportunities and allowing members to exchange ideas and express concerns with neighboring local OAEA campus chapters.
The National Education Association Aspiring Educator Program is the largest student voice in the nation and provides its 50,000 student members on more than 900 college/university campuses across all 50 states with publications, services and representation at the national level. When OAEA joins nearly 35,000 OEA members and 3.2 million NEA members, we can truly improve the profession that we have chosen for our careers.