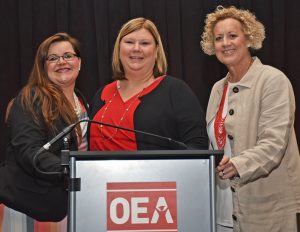 The Oklahoma Education Association has long been considered the voice of education in Oklahoma. Founded Oct. 19, 1889, as the Oklahoma Teachers Association, the group held its first meeting on Christmas Day of that year at the Guthrie First Methodist Church.
The OEA has a rich heritage of fighting and winning battles for public education. The Association's work with local and state governmental agencies and the Legislature and the governor is well-documented. And, the OEA helped change the nation's teaching profession through the courts, as well. The firing of Muskogee's Kate Frank in 1943 for working to unseat several school board members spawned her famous battle that launched a National Education Association defense campaign. Today, NEA's Kate Frank/DuShane Fund provides money to fight member rights cases across the country.
As we enter the 21st century, the OEA has nearly 40,000 members, comprised of public school teachers, coaches, counselors, librarians, and administrators; nurses, custodians, cafeteria workers, bus drivers, secretaries and other support personnel; retired teachers; and education majors at Oklahoma colleges and universities.
At the Oklahoma Education Association: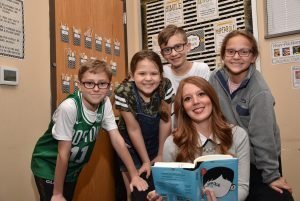 We believe that public education is the cornerstone of a democratic society and that education employees, parents, community leaders and elected officials should work together to promote quality public education.
We believe in equal educational opportunities for all children regardless of their race, socioeconomic status or religious background.
We believe in basic human civil rights for all citizens.
We believe in furthering the interests of education employees in Oklahoma and advancing the profession of teaching by expanding the individual and collective rights of all educational employees.
We believe that for a child to be successful in the classroom, parents must have an active partnership with that child's teacher.
We believe that the teachers in today's public schools are doing a remarkable job of educating Oklahoma's children.
We believe that the preservation and promotion of public education should be the Oklahoma legislature's number one priority.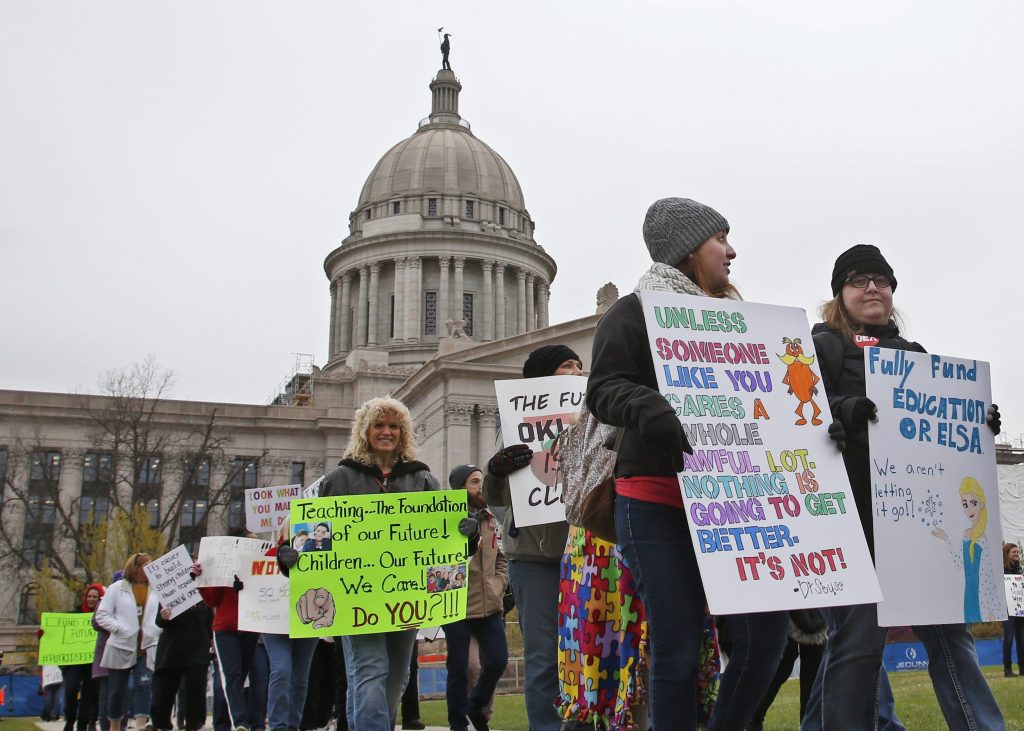 We are a founding member of the Oklahoma Education Coalition.
Working together, the members of the Coalition present a united front for the betterment of public education. The Coalition fights for proper funding of public education and researched-based education reform.
Vision, Mission and Values
A great public school for every student.
To advocate for education professionals and to unite our members and the people of Oklahoma to fulfill the promise of public education to prepare every student to succeed in a diverse and interdependent world.
Equal Opportunity
We believe public education is the gateway to opportunity. All students have the human and civil right to a quality public education that develops their potential, independence, and character.
A Just Society
We believe public education is vital to building respect for the worth, dignity, and equality of every individual in our diverse society.
Democracy
We believe public education is the cornerstone of our republic. Public education provides individuals with the skills to be involved, informed, and engaged in our representative democracy.
Professionalism
We believe that the expertise and judgment of education professionals are critical to student success. We maintain the highest professional standards, and we expect the status, compensation, and respect due all professionals.
Partnership
We believe partnerships with parents, families, communities, and other stakeholders are essential to quality public education and student success.
Collective Action
We believe individuals are strengthened when they work together for the common good. As education professionals, we improve both our professional status and the quality of public education when we unite and advocate collectively.