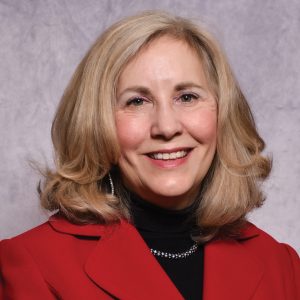 Former OEA president Carolyn Crowder has been named interim executive director by the Board of Directors. She replaces Jim Keith, who resigned in mid-November.
Many OEA members will remember Crowder as president from 1997-2003. Prior to being elected to the association's highest office, she taught for 20 years. After a year as artist in residence for Oklahoma City Public Schools, she spent 19 years in Mustang – nine as a music teacher and 10 as a fifth grade teacher.
Crowder brings a wealth of knowledge to help the OEA transition into new leadership. She will serve as interim ED for the next few months as the association holds elections that will bring new statewide officers and conducts national search for the next executive director.
 "I am thrilled to get to work with Carolyn in this interim capacity," said OEA President Alicia Priest. "She was OEA president when I was a new leader in Yukon. She was and continues to be an inspiration and a mentor. I have been lucky to get to keep in touch and watch her career through the years. She is well respected across the country and brings a wealth of knowledge that will keep us moving forward."
As OEA president, Crowder helped form the Oklahoma Education Coalition, bringing together the state's largest and most influential education organizations. Among the early successes of the OEC were increased salaries for educators, including the largest pay raise in history to that point. The coalition was also successful in lobbying for state-paid health care premiums for education support professionals and certified employees.
Crowder was elected to the NEA Executive Committee following her tenure at OEA president. As a full-time release officer from 2003-09, she worked with other NEA elected officials on national education issues and represented American teachers at education events around the world.
Next, Crowder worked four years as the executive director of the Denver Classroom Teachers Association, a "local option" unit of the Colorado Education Association. During her time at DCTA, the association implemented a teacher-led school and she worked with the district on evaluation and peer review systems.
From 2013-20, Crowder served as the executive director of the Tennessee Education Association. She helped them revitalize their membership recruitment and was instrumental in building a large community coalition that focused on supporting Transformational Community Schools.
After retiring from TEA in August, she and her husband Terry, and their dog Fred, moved back to Oklahoma to be closer to family.
"It's great to back home," Crowder said. "I'm looking forward to sharing what I've learned during my career with the people here in Oklahoma who taught me how to be an education advocate at the beginning of my career."
Carolyn Crowder addresses the crowd at 2003's Save Our Schools rally at the Oklahoma State Capitol.