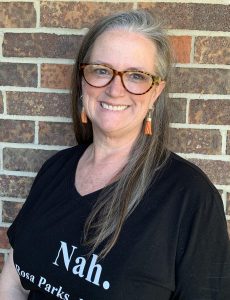 Bartlesville's Heather Davis hopes her six-week unit on the civil rights movement gives her seventh graders a desire to learn more and make the world a better place.
"Overcoming – the Civil Rights Movement in America" teaches her students about this important time in our country through history, literature and research. The unit has earned Heather the OEA's 2020 Excellence in the Classroom – Teachers Teaching Students Award.
Heather is a seventh grade English teacher at Bartlesville's Central Middle School. A National Board Certified teacher, she holds a bachelor's of English, a master's of education in teaching and a library media specialist degree all from Northeastern State University. Heather's teaching philosophy is to ensure the time spent with her students is as meaningful and productive as possible.
"I must figure out the best way for each student's whole being to not only be engaged but impassioned so that they are filled to capacity in my classroom," she says, "and leave with an insatiable desire to learn more and more for the rest of their lives, making the world a better place."
With the Overcoming unit, Heather wants her students to become critical thinkers in terms of civil issues. Activities include watching a video of Marin Luther King's "I Have a Dream" speech, reading the book "White Socks Only" and listening to Heather read the young adult novel "One Crazy Summer" aloud.
The culminating project for the unit is bringing in community members who have read the same book as the students for discussions on the books.
"Many of the adults who come in bring with them life experiences and say things like, 'I remember when Dr. King was assassinated…' and 'The Black Panthers have gotten a bad rap. Let me tell you about what they did in my community…' and "I got to go to a rally in California once…"  Heather said. "These are primary sources that the kids get to sit with at a table and have conversations. They also demonstrate that adults read for pleasure and that learning never stops."
Heather, who is president of the Bartlesville Education Association and a member of the negotiations team, said this unit is her favorite to teach every year.
"For me, it's about kids learning that this battle to end racism and bring about equality is ongoing and has been around for as long as we've been a country. It's also about them seeing that the activists we study and read about are regular people who saw the need for change and acted toward that end."
Watch OEA's video presentation of the Excellence in Teaching Award to Bartlesville's Heather Davis.in
Students design t-shirts during their study of the American civil rights unit in Heather Davis's Bartlesville Central Middle School classroom.