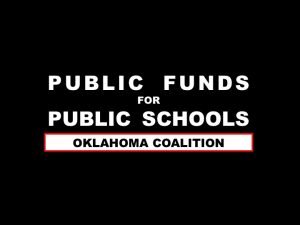 The Oklahoma Education Association this week joined a very diverse coalition with one goal in mind – prevent voucher expansion in state law.
The broad group of Oklahoma pro-public education organizations have formed the Public Funds for Public Schools OK Coalition.
"We believe that public education is the cornerstone of our democracy. We believe that every student deserves the opportunity for a quality public education as guaranteed by the Oklahoma Constitution. As parents, education employees, clergy and community leaders, we will work together to oppose any vouchers, direct or indirect, that divert funds from public schools. Together we will work to ensure that public funds remain in public schools," said a statement released to legislators earlier this week.
Members of the coalition are:
AFT Oklahoma City
Americans United for Separation of Church and State
Oklahoma AFT
Oklahoma Conference of Churches
Oklahoma Education Association
Oklahoma Edvocates
Oklahoma Parent Legislative Action Committee (PLAC)
Oklahoma Parent Teacher Association
Oklahoma Retired Educators  Association
Oklahoma Rural Schools Association
Organization of Rural Oklahoma Schools
Pastors for Oklahoma Kids
School Nurse Organization of Oklahoma
The introduction of legislative measures to enhance current voucher schemes or to create new ones is nothing new. But this year, legislators have filed nearly a dozen voucher bills, the largest onslaught of bills attacking public education funding in a single year.
"There is no accountability built into voucher bills, not for the parents who take the voucher or from whatever private school that receives the funding," said OEA President Alicia Priest. "Vouchers weaken public education by draining money and resources away from the 90% of Oklahoma children who attend public schools."