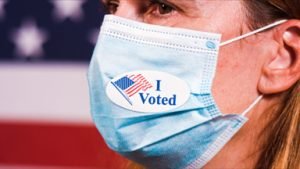 While the 2020 election didn't feature the sheer number of players as 2018, education still played a major role in several Oklahoma races. After the dust settled from Election Day, we are left with an education caucus with 27 members – 10 senators and 17 representatives.
That's two more than last legislative session.
Campaigning during a pandemic was beyond difficult for all candidates and their volunteers. Even so, OEA members remained highly engaged in the political process.
"Campaigning has been different, more strategic, thoughtful and focused," said OEA President Alicia Priest. "People are still engaged around education issues. Because of the pandemic, people are acutely aware of the importance and needs of education and educators. We saw education as a top issue for both candidates in most races.
"We are proud and humbled by the hard work of educators and candidates across the state to keep education on the ballot."
Oklahoma lawmakers with education experience
– Micheal Bergstrom, Senate District 1
– Rhonda Baker, House District 60
– Mary Boren, Senate District 16
– David Bullard, Senate District 6
– Ty Burns, House District 35
– Sherri Conley, House District 20
– Dean Davis, House District 98
– Mickey Dollens, House District 93
– JJ Dossett, Senate District 34
– Jo Anna Dossett, Senate District 35
– Toni Hasenbeck, House District 65
– Carri Hicks, Senate District 40
– Ronny Johns, House District 25
– Dick Lowe, House District 56
– Roland Pederson, Senate District 19
– Dewayne Pemberton, Senate District 9
– Logan Phillips, House District 24
– Melissa Provenzano, House District 79
– Randy Randleman, House District 15
– Trish Ranson, House District 34
– Jacob Rosecrants, House District 46
– Brenda Stanley, Senate District 42
– Blake Cowboy Stephens, Senate District 3
– Danny Sterling, House District 27
– John Waldron, House District 77
– Max Wolfley, House District 95
– Mark Vancuren, House District 74