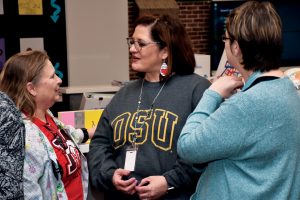 A quick glance at Jennifer Thomas's daily schedule and one might think she never leaves school. Whether she's performing her job, working for her local association or volunteering as a parent, Mustang Public Schools is benefitting from her service.
Jennifer recently received the OEA's Education Support Professional Award for her many contributions to education in Mustang. By day, she serves as secretary of Riverwood Elementary. As a parent, she's active in her sons' education and activities in the district. And in her spare time, Jennifer is treasurer for the Mustang Education Support Professionals (MESP), a local affiliate of the OEA.
Winners of the OEA ESP Award are automatically nominated for the Oklahoma ESP of the Year and the National Education Association ESP of the Year awards.
In her letter recommending Jennifer for the award, Riverwood Principal Alisha Suffield wrote, "She is welcoming, encouraging and builds relationship with kids that extend beyond classroom walls. She is a professional (who) is committed to excellence and has the heart of a servant as she strives to meet the needs of students and patrons alike."
In addition to her duties as school secretary, Jennifer has served on the district's handbook committee for two years.
MESP recently won bargaining rights with the district and Jennifer played an important part in the process.
Winning the bargaining election, "… would not have been possible with Jennifer's resourcefulness, dedication, perseverance and exemplary attitude," said Margaret Brown, MESP vice president. "She has worked tirelessly along with other members of our executive committee to bring MESP to where we are today."
Watch OEA's video presentation of the ESP Award  to Mustang's Jennifer Thomas.