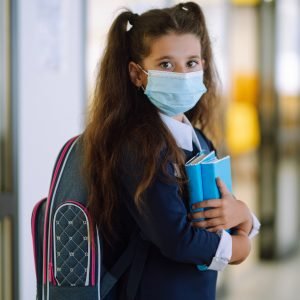 Even though educators say they are stressed and overwhelmed, they are most concerned about their students' education progress and well-being, according to a survey recently conducted by the Oklahoma Education Association.
In addition, a vast majority are worried not only about their own health, but that of their families, students and colleagues.
The OEA's Survey on Oklahoma Schools and the Pandemic was conducted between Dec. 1-13. More than 3,100 Oklahoma teachers, support professionals and administrators completed the 53-question survey. The survey, which took nearly 30 minutes to complete, had a completion rate of 54%.
"Obviously, our education employees were motivated to share their thoughts on how the pandemic is affecting their professional and personal lives," said OEA President Alicia Priest. "The results are statistically significant because they come from educators across the state and represent all job titles and number of years in the profession."
Respondents to the survey come from more than 230 communities.
"Nearly 70% of our teachers have had to teach in multiple platforms, from in-person to virtual to combinations of both. Many of them have had to adapt to a new reality with little notice," Priest said. "Our educators are doing all they can, but they desperately need our support. We, as a state, need to reflect on how we value public education, its educators, and the vast majority of Oklahoma children who attend these schools. Supporting them is the best choice for Oklahoma's future."
The survey was broken into four segments. Here are some highlights:
The Pandemic
Only 4% believe the worst of the pandemic is behind us.
12% have contracted COVID-19 (compared to about 6% of all Oklahomans).
The respondents are not confident the state legislature (74%) or the governor (82%) will provide what they need to be safe at work.
School Safety
63% believe schools are not safe for in-person instruction.
90% say social distancing is not possible at school.
There is high concern for their own health (89%), their families' health (93%) and their students' health (89%).
Student Learning
97% say their schools have a full-time virtual option.
Only 7% say their districts have enough substitutes regardless of how school is taught (remotely or in person).
95% believe state testing should be suspended.
How School Employees are Doing
On a scale of 1-10, with 10 being the highest, 64% say their overall stress level is an 8 or higher.
86% percent say their workload has increased over the same time last year.
61% say they do not have time to plan for that workload.
27% say they are planning to retire or are looking to leave the profession this year.
Meet Sharon Hill-Wooten, COVID survivor
Sharon Hill-Wooten has worked in Idabel Public Schools as an English teacher, special education teacher, and bus driver for the past 29 years. Her life was upended more than most in 2020, but Sharon says she is just thankful to be alive.