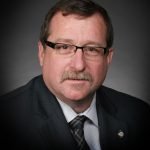 After 10 years of neglecting education funding, the Oklahoma Legislature has taken big steps to correct the problem over the last three sessions. From historic teacher raises and better funding for the classroom, to support professional raises and a cost-of-living adjustment for retirees, funding and overall legislative support for public education is much improved.
Rep. Mark McBride (R-Moore) has played an important role in making that improvement happen. As chairman of the House Appropriations and Budget Education Subcommittee and the Assistant Floor Leader, he brings a great deal of influence through his leadership positions.
In honor of his continual support for public education, McBride has been named winner of the OEA's 2020 Outstanding Legislator Award.
McBride was instrumental during the 2018 walkout in bringing Democrats back to the table for budget negotiations. He also helped craft legislation that garnered three-fourths of the House necessary to pass a funding package for historic education funding.
Since then McBride has continued to fight for education funding, and for better education policy. He introduced bills that improved accountability and transparency for virtual schools and the Lindsay Nicole Henry Scholarship voucher program. He also sponsored legislation that increased National Board Certification stipends.
OEA's Legislative and Political Organizers say McBride is always open to a conversation about education, and our members agree.
"Rep. McBride maintains regular contact with the leadership of The Education Association of Moore and reaches out for our input on specific legislation throughout the session," said Zach Grimm, TEAM president and OEA Zone Director for Oklahoma City Metro A.