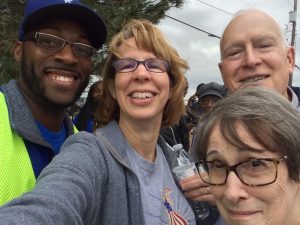 From facilitating candidate forums to fighting for common sense education reforms, Voices Organized in Civic Engagement (VOICE) is a nonprofit dedicated to the betterment of the community as a whole.
In honor for its continuing work to improve the lives of all citizens, VOICE has been chosen the winner of OEA's 2020 Tuskahoma Brown Miller Award.
The award is presented to a business or group that has contributed significantly to the improvement of education. VOICE has made a "… significant contribution of time, money, or material for the advancement of education" and "demonstrates a commitment to equal educational opportunity," as outlined by the award's criteria.
OEA has worked frequently with VOICE over the last few years, including unique "accountability sessions" for candidates for public office and the association's A Child Is More than a Test Score Campaign.
In addition, VOICE has pushed for an alternative school report card that reflects real issues and concerns parents have about schools, elimination of unnecessary utility fee rate increases, and reforms for criminal justice and payday lending practices.
"As an educator … I witness the effects of economic, legal and discriminatory injustices on students, the families, as well as my educator colleagues and their families, on a daily basis," said Heather Sparks, an assistant principal in Mid-Del, in her nomination letter of VOICE. "I have firsthand knowledge of VOICE's dedication and effort to alleviate (those injustices)."