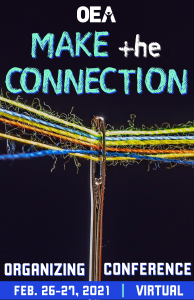 Make the Connection – OEA's 2021 Organizing Conference will be held virtually this year and is free to attend, Feb. 26-27.
Anthony Daniels, minority leader of the Alabama House of Representatives and a former chair of NEA's student program from aspirirng educators, will give the keynote address Saturday the 27th. 
Breakout sessions will be presented by local leaders with assistance from OEA Staff. Caucus meetings are scheduled and Friday evening's session will feature games and a fundraiser for the OEA Fund for Children and Public Education.
Need for info? Contact conference chair Patti Serio, Northwest Region Organizing Specialist, at pserio@okea.org. 
Tentative Agenda
Friday, February 26, 2021
5 p.m. – Republican Caucus, moderated by Amber Taylor, Putnam City ACT, and Zach Murray, Ponca City EA
– Democratic Caucus, moderated by Rowdy Washburn, Prof. Educators of Norman 
6 p.m. – Black Caucus, Kelli Roberts, Tulsa CTA
– Hispanic Caucus, Victor Gonzalez, Stillwater EA
– Native American Caucus, moderated by Mark Webb, Mustang EA
7 p.m. – BINGO/SINGO/FILMO fundraiser for the Fund for Children and Public Education. (Playing the games require a $10 entry fee.)
Saturday, February 27, 2021
8:30 a.m. Registration
9 a.m. Opening Session, with Pres. Alicia Priest
9:15 a.m. Keynote Speaker, Anthony Daniels, Minority Leader of the Alabama House of Representatives and former NEA Aspiring Educators chair
9:45 a.m. Discussion on COVID & Legal Issues, with OEA General Counsel Richard Wilkerson
Breakout Sessions
10:30 a.m. – Session I
Session IA: Difference Between Organizing Activity & Action, with Cari Elledge, Prof. Educators of Norman, and Betty Collins, Union CTA
Session IB: Noble Inspiration for Bargaining, with Sherry Callahan, Vinita CTA, and Sharica Cole, Muskogee EA
Session IC: Legislative/Virtual Lobbying, with Shawna Mott-Wright and LeeAnne Jimenez, Tulsa CTA; and Kaci Hoffer, Miami ACT
Session ID: Purple Video; with Andy Moore, Let's Fix This
Session IE: Expanding Community Involvement, with Heather Davis and Heather Boyle, Bartlesville EA
Session IF: Help Desk
11:30 a.m. Lunch
Noon – Session II
Session IIA: Peace & Justice Caucus; moderated by Chelsea Foo, Edmond ACT
Session IIB: Engaging with School Boards, with Chuck Pack, Tahlequah EA, and Jennie Scott, Enid EA
Session IIC: Ongoing Leader Development, with Terri Story and Mark Webb, Mustang EA; and Tiffany Johnson, Shawnee ACT
Session IID: Mindfulness, Kara Rockholt, Recess+ and Elizabeth Barlow, Tulsa CTA
Session IIE: LBGTQ+ Caucus, moderated by Zach Grimm, TEA Moore
Session IIF: Help Desk
1:05 p.m. – Session III
Session IIIA: Teaching History Appropriately, with Aaron Baker, Putnam City ACT; Leslie Montemayor, McAlester ACT; Kelli Roberts, Tulsa CTA; and Victor Gonzalez, Stillwater EA
Session IIIB: Using Changes to District Policy to Engage New Members, with Jarrod Scott, Putnam City ESP; Chelsea Foo, Edmond ACT; and Amber Spradlin, Choctaw/Nicoma Park ACT
Session IIIC: How to Go from Defense to Offense in the Voucher Fight, Kyle Serrete, NEA Senior Policy Analyst, and Hannah Jarman, Ochoa Elementary-Community School
Session IIID: How to Effectively Communicate Your Message, Zach Grimm, TEA Moore, and Wilma Dudley, Chickasha ASE
Session IIIE: Help Desk
2:10 p.m. Trauma-Informed Teaching, Dr. Barbara Sorrells
4:10 p.m. Legislative Action/Group Activity/Survey