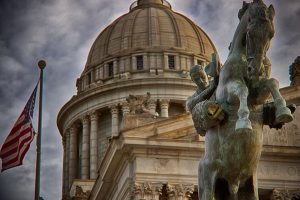 The OEA Legislative Agenda is developed by the Legislative Committee, with final adoption made by the OEA Board of Directors.
Continue with every effort to protect classroom funding; advocate for regionally competitive teaching salaries; ensure support professionals are paid a living wage; protect the pension of retired educators.

Revoke the single summative letter grade from the A through F statewide accountability system; initiate dialogue determining more effective means of measuring student growth.

Eliminate costly and ineffective mandatory U.S. History exam.

Initiate legislative study to find research-based guidance regarding reading assessment and effective interventions with a focus on age-appropriate benchmarks and the consequences of student retention.

Protect and continue advocating for the expansion of health benefits of all education professionals to include dependent coverage.

Oppose legislation supporting vouchers/ESAs/tax credits that would divert money away from public schools.

Remove the salary cap for retired education professionals returning to work in a school district.

Eliminate the virtual education board and place all public school districts, virtual and charter, under the state board of education and hold all districts, virtual and charter, to the same standards and methods of accountability as traditional public schools.

Eliminate the financial incentives provided by virtual schools for the recruitment of teachers and students.

Eliminate the authority of the State Board of Education to override local school board decisions regarding charter school authorization.

Ensure that local school districts remain autonomous in creating their own calendars and schedules within state regulations.