Regional Summer Leadership Academy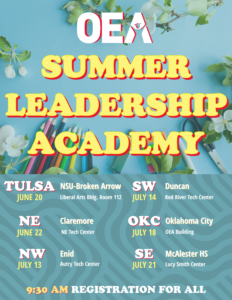 OEA is returning to regional Summer Leadership Academies across the state this summer!
If you or someone you know wants to learn about being a leader at your local association, please attend one of our great opportunities to collaborate and grow as stewards of public education in Oklahoma.
Registration is at 9:30 am for each event.
TULSA (Register Here) 
– June 20
– NSU-Broken Arrow
– Liberal Arts Building Room 112
NORTHEAST (Register Here)
– June 22
– Claremore
– Northeast Tech Center
NORTHWEST
– July 13
– Enid
– Autry Tech Center
SOUTHWEST 
– July 14
– Duncan
– Red River Tech Center
OKLAHOMA CITY (Register Here)
– July 18
– Oklahoma City
– OEA Building
SOUTHEAST (Register Here)
– July 20
– McAlester High School
– Lucy Smith Center